Since its establishment in 1973, the Gorman Museum of Native American Art has been dedicated to the creative expressions of Native American artists and artists of diverse cultures and histories. The Museum's reputation of artistic excellence is proven by its company of exhibiting artists, including some of the most established Native artists as well as the next generations of emerging Indigenous artists. The Gorman Museum is unique for its commitment to exhibiting works by living Indigenous artists, particularly within an educational institution.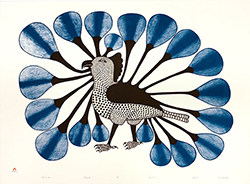 When you become a member of the Gorman Museum, you join a vibrant community of visionaries, weaving together the future and the past as our communal strength. We believe in the power of art to heal and to create community, and in the importance of the visual voice. We invite you to join the staff and artists of the Gorman Museum in becoming a keeper of history and our diverse culture.
Members receive notice of exhibitions, events, including gallery talks with visiting artists and tours led by the museum Director and Curator, priority registration for workshops and other events, and discounts on museum publications.
Your donation, which is tax-deductible as allowable by law, directly supports exhibition and event programming, as well as benefit the care and conservation of the permanent collections. Museum membership also enables a greater level of support for featured artists in the forms of honoraria, residencies, and exhibit publications.