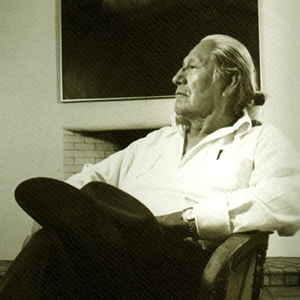 The Gorman Museum of Native American Art was founded in 1973 by the Department of Native American Studies in honor of retired faculty member, Carl Nelson Gorman, Navajo artist, WWII code-talker, cultural historian, and advocate for Native peoples. As a founding faculty member of Native American Studies, Gorman was the first faculty member to teach Native American art at UC Davis in 1969.
The Gorman Museum of Native American Art at UC Davis is committed to contemporary Native American Art that enacts "Visual Sovereignty" by stimulating critical thinking through politically and socially engaging exhibitions.
The museum guiding core values include: 
Creating accessibility and removing all barriers to Native American contemporary art for all.

Establishing relationships and understanding between arts, living artists, and audiences.

Enhancing a sense of diversity, equity, and inclusion at UC Davis and beyond.

Taking artistic risks.
For fifty years, the Gorman Museum of Native American Art has been dedicated to the creative expressions of Native American artists and artists of diverse cultures and histories. The Museum's reputation of artistic excellence is proven by its company of exhibiting artists, including some of the most established Native artists as well as the next generations of emerging Indigenous artists. The Gorman Museum is unique for its commitment to exhibiting works by living Indigenous artists, particularly within an educational institution.
Hulleah J. Tsinhnahjinnie, Director
Tsinhnahjinnie@ucdavis.edu

Veronica Passalacqua, Executive Director
VPassalacqua@ucdavis.edu