Construction comes to an end...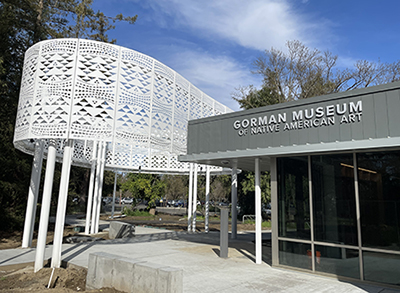 The last few months have been filled with inspections, certifications, training, adjustments and the final touches of the construction project.  Since Spring, the building has truly transformed into a museum with alarm and security systems going live, audio-visual and accessibility refinements, gallery lighting, finishing the moveable walls and close monitoring of strict environmental conditions. 
After certification the building is expected to meet LEED (Leadership in Energy and Environmental Design) Gold-level standards which is quite an accomplishment for a museum environment that has been created from renovation of a 1970's faculty club.
Campus services have been transitioning from the construction team to support the museum with alarm and security systems, facilities, key controls, custodial, and grounds.
Moving the museum collections and equipment is nearly complete, with artwork finding new locations in the Collections Gallery, visible collections storage, and art storage areas.  Visible collections storage includes a custom lateral art rack system for compact storage of large framed works, as well as additional wall mount racks and a renewal of existing vertical storage.  With a full glass wall from the galleries, visitors can view this area and ongoing collections work.
The New Collections Gallery is coming together and installation of the opening exhibitions will continue through August and into September.  In the front entry areas, the reception, shop, library, and offices are all taking shape.
With demolition beginning in April 2021, the construction project was just over two years.  For many museum supporters, it began ten years ago with the museum 40th anniversary celebrations and the campus commitment to find the Gorman Museum a new home.
 
Breaking Ground on the Gorman Museum Relocation/Renovation Project
The short video (8 min) provides a brief history of the Gorman Museum of Native American Art and how we arrived at this moment when construction begins on the museum's new home.  The video includes a walk through of the current facility as it stood just before the start of construction.