Construction is coming to an end!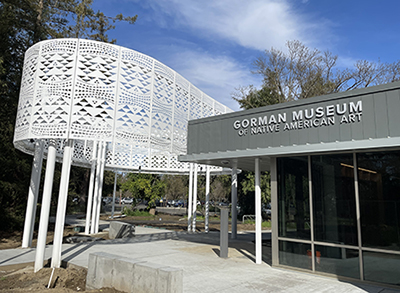 The construction and renovation project is in the final stages.  With demolition starting in April 2021, the construction project will be just under two years.  For many museum supporters, it began ten years ago with the museum 40th anniversary celebrations and the campus commitment to find the Gorman Museum a new home.
After extensive demolition of the university club, construction shifted to rebuilding everything anew with up-to-date equipment, environmental controls, safety, accessibility and modern technologies.  Following our facility studies and museum guidelines, it was important to design multiple spaces that address museum exhibitions, programming, and collections stewardship.
In the later stages of the project, the building began to transform into a museum with the installation of specialized equipment and finishes.  The galleries were finished with lighting, a/v, accessibility systems and installation of custom display cases. 
Visible Collections Storage includes a custom lateral art rack system for compact storage of large framed works, as well as additional wall mount racks and a renewal of existing vertical storage.  With a full glass wall from the galleries, visitors have visibility into this area and ongoing collections work.
The Collections workrooms include an isolated textile room, with custom equipment for archival rolled storage of tapestries and rugs, alongside custom furniture to support collections work and care.  In the front entry areas, the reception, shop, library, and offices all began to take shape as furniture and cabinetry arrived.
Much of the construction has moved to the exterior of the building with signage on Old Davis Road and Arboretum Drive bike path. The entry pavilion, a signifier for the museum entrance, is nearly complete.  The screen panels that cover the structure have been designed by Hulleah Tsinhnahjinnie, Museum Director and acclaimed artist.
Planning is underway to officially open and welcome visitors back this Fall, coinciding with the museum 50th anniversary. Dates, programming and events will be announced in the coming months.
While the move will mark a new beginning for the museum, the core mission remains the same - we are excited to reimagine how to best present the collections to the public, develop engaging programming and foster an environment of forward-thinking practice and theory. 
Breaking Ground on the C.N. Gorman Museum Relocation/Renovation Project
The short video (8 min) provides a brief history of the C.N. Gorman Museum and how we arrived at this moment when construction begins on the Museum's new home.  The video includes a walk through of the current facility as it stood just before the start of construction.