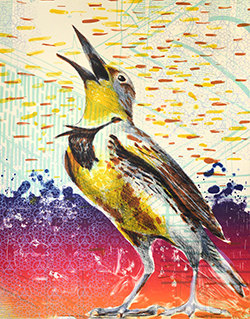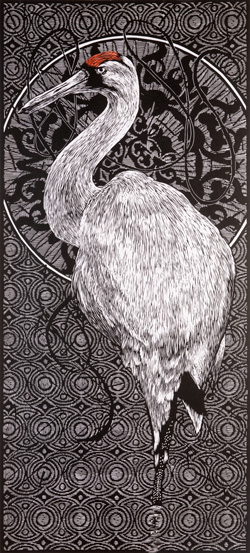 Feathered Relations:
Exhibition Subtitle
Works by Marwin Begaye
In the solo exhibition, Marwin Begaye (Diné) includes prints, wood blocks, and multi-media works to create a conceptual homage to birds. For the artist, birds are about our relationships – to nature, to one another, to culture.
Marwin Begaye is an internationally exhibited printmaker, painter and nationally recognized graphic designer. As Associate Professor of Painting and Printmaking at the University of Oklahoma's School of Visual Arts, his research has been concentrated on issues of cultural identity, especially the intersection of traditional American Indian culture and pop culture.
 
Artist Statement
Birds are about our relationships – to nature, to one another, to culture. In a way, they provide a link back to the landscape. They connect the sky to the earth and through their natural patterns of migration and annual nesting cycles, they connect us to place. 
This connection to place and nature is a stark contrast to our social concepts of "staying connected." In the digital age, we are virtually connected to one another though increasingly disconnected from nature. The birds are a link back to nature. 

I honor the birds by giving them halos, and the marks often associated with sacredness, because in our beliefs, the birds have powers for healing and for ceremony. The birds carry these powers, shared with us through the gift of their feathers. The birds are sacred. 

Their distinctive forms, each has its own crest and body shape, allow me to elaborate through relief printing and the gestural mark the beautiful simplicity of their line. The linear structure of their feathers allows me to activate the composition by using directional marks, whether in paint or woodblock cuts. 
I am interested in this combination of conceptual homage to the birds alongside my interest in developing aesthetically graceful compositions. It is very satisfying when collectors offer their own connections to the birds as a supplement to the stories shared through these images.