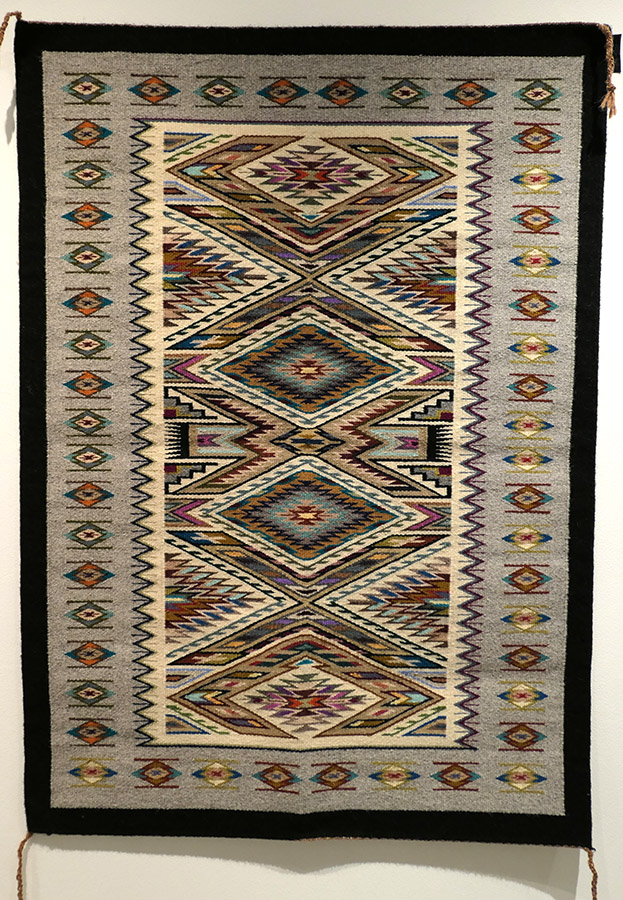 Bessie Littleben, Teec Nos Pos Rug
Bessie Littleben
1967-
Diné (Navajo)
Medium Specific
Commercial yarn, wool
Dimensions
45 x 32 in. (114.3 x 81.3 cm)
Accession Number
2019.35.40.03
Credit
Gift of Patrick V. and Mary Beth Musick
Memo / Artist Statement
Artist stated that she used 64 colors in this weaving.
"Life is about using the whole box of crayons." Bessie's using the all the crayons in a lot more ways than one, which of course is the point of the quotation. There are always more than 50 colors in her work.
(Truewest Gallery website)

Bessie's getting a lot more out of that box than colors, though. The designs have perfect symmetry and although they are all recognizably Bessie's style, they are all different in intricate and amazing ways. They vary in the way that the borders are put together, the way that the central panels are composed and in the play of the colors themselves. Stylistically, artistically and skillfully woven, they have that special sense of graceful satisfaction that comes from using all the crayons in the box.

Teec Nos Pos is a small northern Arizona community and its name means "ring of cottonwood trees." Two styles of rugs come from this area, one with bold geometric motifs and the other designed in an all-over pattern of finely outlined zigzags. Littleben agrees with this common definition, but adds that her style is "unique." When people see her rugs, they say, "We have never seen a rug like that," she said.

She took her style in its own direction when her son, Roland Littleben, then a seventh-grader, came home from school one day and said, "Mom, you should do other things," persuading her away from patterns she customarily used in her rug weaving.

He then drew a design of what he had in mind, Littleben said, adding that her five children are her inspiration to this day. "Whatever I'm doing today, my kids and I have put together," she said.

One other mentor has influenced her artistry as well. A cousin's late sister, Anita Tsosie, told her, "When you're weaving, make sure you look pretty, that you are dressed up."

"I always keep this in mind," Littleben said.

Littleben "is the beauty way," said Cindy Gresser, executive director of Smoki Museum. "She walks in beauty and it comes out in her rugs. Navajos believe they should always walk in beauty. It comes through her and appears on her loom."
Biography
Photograph of the artist, holding the weaving on file.
active 1980s-present. Teec Nos Pos, from Teec Nos Pos, AZ.
Family: daughter of Marie Littleben, sister of Darlene; mother of at last two children.
Schaaf 2001