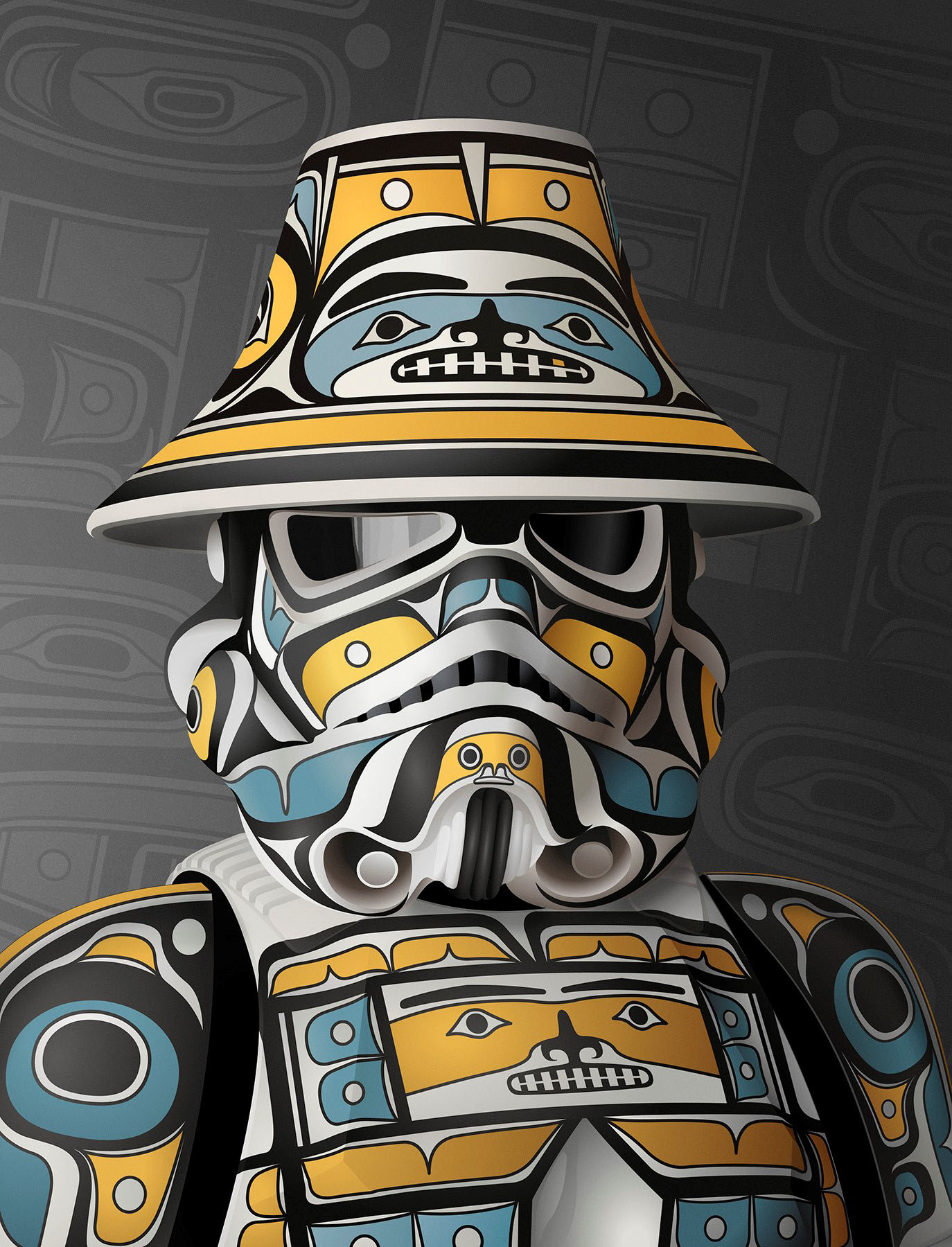 Andy Everson, Resistance
Andy Everson
1972-
K'ómoks/Kwakwa̱ka̱'wakw
Medium Specific
Canvas print
Dimensions
38 1/2 x 26 1/2 in. (97.8 x 67.3 cm)
Accession Number
2019.25.25.54
Credit
Museum acquisition
Memo / Artist Statement
The North American governments of the 1800s made no bones about it: they wanted to solve the "Indian problem" once and for all. This was true whether you were on the Canadian side of the border or the American. Both governments enacted horrific policies against the Indigenous peoples of North America. Whether they outright promoted or pursued bounties on the lives of Native American men, women or children or sent diseases straight into the heart of our villages, they were complicit and culpable in what we would now call genocide. When killing our people directly didn't work, they sought to "drive the Indian" out of our ancestors through policies of assimilation and laws that were meant to curtail our traditions and destroy our belief structures.

What did our people do in turn? They resisted…every…step…of…the…way.

When gunboats would bombard our village sites with cannon fire, our people would go into the woods only to come back out and rebuild. When the government sent police officers to arrest our people for potlatching, they went straight back to our traditions as soon as they were released from prison. When they were told not to dance, they danced. When they were told not to fish, they fished. When they were told not to speak our languages, they tried their best to uphold their native tongue in the face of residential schools.

What I have to say is this: resist. Resist all the forces that are trying to make you the same as everyone else. Resist the urges of modern throw-away consumerism. Resist being complacent. Every Indigenous child born today is an act of resistance. Every traditional song that you teach that child furthers that resistance. Every sacred dance that is danced and every word in our Indigenous languages that are spoken are acts of resistance. Every time our weavers weave and our carvers carve, they engage in resistance. They do something and, in fact, are someone that others once intended to wipe off the face of the earth. 

I created this image as my own little act of resistance. I believe that it's important to illustrate that even in the face of intergenerational trauma and adversity, we have persevered. Our people have endured it all and continually show that our cultures are meaningful and relevant in this day and age…we change, we adapt and we resist and we're not afraid to have a little fun in the process.
Biography
Andy Everson was born in Comox, BC in 1972 and named Na̱gedzi after his grandfather, the late Chief Andy Frank of the K'ómoks First Nation. Andy has also had the honour of being seated with the 'Na̱mg̱is T̓sit̓sa̱ł'walag̱a̱me' name of Ḵ̓wa̱mxa̱laga̱lis I'nis. Influenced heavily by his grandmother, he has always been driven to uphold the traditions of both the K'ómoks and Kwakwa̱ka̱'wakw First Nations. In this regard, Andy has pursued avenues where he can sing traditional songs and perform ceremonial dances at potlatches and in a number of different dance groups, most notably the Le-La-La Dancers, the Gwa'wina Dancers and the K'umugwe Dancers.

Pursuing other areas of traditional culture has also led Andy to complete a Master's degree in anthropology. Because the K'ómoks First Nation lies on the border between the larger Salish and Kwakwa̱ka̱'wakw realms, his thesis focused on notions and expressions of contemporary Comox identity. His work in anthropology provided him with a background in linguistics which subsequently inspired him to create a company, Copper Canoe, Inc, that specialized in the creation of Aboriginal language media.

Andy feels that his artwork stands on par with these other accomplishments. Although he began drawing Northwest Coast art at an early age, Andy's first serious attempt wasn't until 1990 when he started designing and painting chilkat-style blankets for use in potlatch dancing. From these early self-taught lessons, he has tried to follow in the footsteps of his Kwakwa̱ka̱'wakw relatives in creating bold and unique representations that remain rooted in the age-old traditions of his ancestors. The ability to create and print most of his own work has allowed Andy to explore and express his ancestral artwork in a number of contemporary ways.
http://www.andyeverson.com