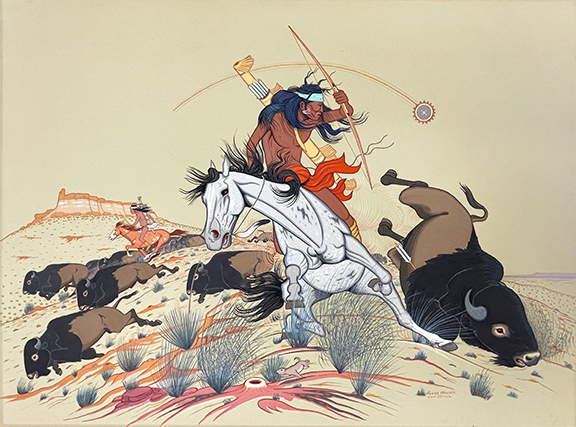 Allan Houser, Untitled (Buffalo Hunt)
Allan Houser
1914-1994
Chiricahua Apache
Alternative Name
Allan Capron Haozous, Ha-oz-ous
Medium Specific
Tempera paint on paper
Dimensions
29 x 39 in. (73.7 x 99.1 cm.)
Accession Number
2022.35.15.65
Credit
Gift of Sky and Ed Chwekun
Biography
A sculptor, a painter, and a Chiricahua Apache, Allan Houser was born to Sam and Blossom Haozous on a farm near Apache, Oklahoma, on June 30, 1914. He was twenty years old when he began his formal art training at the Santa Fe Indian School in New Mexico. In Santa Fe he shared a studio with Navajo painter Gerald Nailor, with whom he produced a series of murals for the U.S. Department of the Interior in Washington, D.C., in 1939. That same year Houser married Anna Marie Gallegos and returned Oklahoma. At the Fort Sill Indian School in Lawton he was encouraged to explore sculpture as an avenue of expression.

During World War II Houser worked as a pipe fitter in Los Angeles. Meanwhile, he continued to draw, paint, and experiment with sculpture, initially carving small figures in wood. In 1947 the Haskell Institute in Lawrence, Kansas, commissioned him to create a memorial to American Indian soldiers killed in the recent war. The finished piece, carved from a single block of Carrara marble, was completed in 1948. In 1949 he received a Guggenheim Fellowship in painting and sculpture and again returned to Oklahoma to work on various projects.

From 1951 to 1962 he was employed as a teacher and artist in residence at the Inter-Mountain Indian School in Brigham City, Utah. In 1962 he moved back to Santa Fe to become a founding faculty member of the Institute of American Indian Arts, serving as the head of its sculpture department until 1975 when he retired to devote more time to his own work. Having cast his first bronze in 1968, he subsequently established an international reputation for monumental figurative and abstract works in this medium.

Recipient of state art awards from the governors of New Mexico and Oklahoma in 1980 and 1983, Houser was inducted into the Oklahoma Hall of Fame in 1985. In 1992 he became the first American Indian to receive the National Medal of Arts, presented to him by Pres. George Bush. In 1993 he received the Prix de West Award from the National Academy of Western Art at the National Cowboy and Western Heritage Museum in Oklahoma City.

Houser died at his home in Santa Fe on August 22, 1994.
Inscription
Signed, dated 1955